Advanced Battery Technology Innovation USA 2023
|

Driving The Future Of Vehicle Electrification
50+ Expert Speakers | 50+ Pioneering Exhibitors | 350+ BEV Professional Delegates
The Westin Southfield, Detroit
For over a decade WeAutomotive Group has organized the industries leading conferences and exhibitions – covering vehicle electrification, where chief battery technologists from leading automotive OEMs, leading suppliers and key members of the supply chain, discuss the latest challenges, learning objectives and technology innovations in the rapidly expanding market of advanced electric vehicles and the batteries, and battery systems, that will power them.
Taking place in person on the 15-16 November 2023, the Advanced Battery Technology Innovation USA Summit, returns to Detroit.
Following the huge success of our west coast summit earlier this year Battery Thermal Management USA, California – we are combining our two leading events to cover both key topics across a much bigger way!
Take part in this industry must-attend event, where battery technologists from leading automotive OEMs and their key suppliers address the current challenges, pressing learning objectives and examine. breakthrough technologies shaping the future of vehicle electrification
Day One
|

xEV Battery Thermal Management
Next-Generation Battery Thermal Management Systems And Technology
Next-Generation Thermal Management Solutions To Optimise Battery Safety & Performance
Evaluating The Different Thermal Management Technologies Deployed To Ensure Cells Operate Under The Optimal Temperature Conditions
  Comparing The Relative Benefits Of Air & Liquid, Direct And Indirect Cooling In Terms Of Cost And efficiency
Meeting The Specific Thermal Management Challenges Of Ultra-Fast Charging And Increased Range
Minimizing The Risk Of Thermal Runaway Propagation In Different Battery Designs
How To Improve Thermal Efficiency, Enhance Lightweighting & Integration Capacity Of Components And Further Advance BMS Capacity
Thermal Conductive Adhesives For Next-Generation Cell-to-Pack Configurations
Engineering Single-Phases Immersion Cooling For Thermal Management Of Lithium-Ion Batteries
Optimal Design Of Thermal Management Systems – At The System Level
Disruptive Next-Generation Thermal Adhesive Solutions For Battery Applications
Temperature Counts: Increasing xEV Safety Comfort, Range And Performance With Sensors
Achieving Battery Safety With Advanced Thermal Management Solutions
Engineering The Thermal & Safety Challenges In Next-Generation Battery Packs
Don't Just Delay Thermal Propagation – Stop It
Fast Charging & Thermoregulation: Battery Assessment By Means of A Multi-Scale Multi-Domain
Material For Complex Thermal Management Systems
Cell Monitoring With Electrochemical Impedance spectroscopy To Extend Battery Life And Prevent Thermal Runaway
Selecting The Right Material For Battery Thermal Management Evaluating The Potential Of Passive Thermal Management Solutions Such As Phase Change Materials (PCMs) and heat pipes (HPs)
Day Two
|

Battery Tech.Cells & Systems
Optimizing the Safety, Capacity and Lifespan of Lithium-Ion Batteries with Battery Management Systems, Battery Intelligence Innovations & Battery Pack Advancements
Battery Design & Integration
Battery Management & Battery Intelligence
New Opportunities For The Cell & BMS Industry
The Road To A Solid-State Powered Future
Battery Technology Challenges For Commerical Vehicles
Faster Charging, Higher Efficiency, Longer Range
Immersion Cooling Technology For Cylindrical Lithium-Ion Cells
Innovations & Developments in EV Architecture For Performance Vehicles
High-Performance EV Powertrain Development & Battery Pack Design
Latest Methodologies In Battery Testing
High Precision Calorimetry And Measurement Of Heat Generation For EV Li-Ion Cells
Fast Charging Optimization Of Lithium-Ion Battery Cells
"Can't say enough good things about the 2022 West Coast Battery Technology Management Innovation Conference. It was a wonderful event that allowed attendees to better understand the upcoming technology trends that we'll be seeing in electrification for years to come. Can't wait to attend another event in the future!"
Application Engineer, Parker-Lord
"Well planned event, with full agenda and multiple networking opportunities.  Presentations focused on real-world application, deployment, and challenges, with a diverse mix of stakeholders both attending and presenting."
Global Technical Director, Transportation Technologies – Intertek
"The Battery Thermal Management Innovation Conference hosted by WeAutomotive was a wonderful cross-section of the entire industry technical professionals, business leaders and others which created a learning environment for all.  A good mix of technology and reality was surely one of the best features of this one day event.  Due to the critical nature of this topic, the event will become increasingly in importance and societal contribution via the collaborative environment it produces."
"Speaking at and Sponsoring WeAutomotive Group's Battery Thermal Management Innovation USA Conference was a good move for our company. The event was well organized and the right people attended for us to reach our target market. We look forward to presenting at the next WeAutomotive event."
Applications Engineering Manager – NeoGraf Solutions
"We are looking forward to coming back to BTM Innovation USA in Palo Alto next year.  A great turnout of industry experts and a diverse array of suppliers, manufacturers, tier 1 suppliers, and OEMs."
Business Development Manager –Electric Vehicle and Battery, HB Fuller
"WeAutomotive did an outstanding job for this conference. Making the trip for a one-day conference was not highly appealing at first. Once I took a look at the line-up and started mingling with all the guests, I knew I had made the right decision. The Battery Thermal Management Innovation conference had the perfect balance of Suppliers, Innovators, and Experts within this field. The connections made during this event will help my company continue to innovate in terms of battery thermal management. I've already started making plans to attend next year's event!"
Director of R&D, Sogefi Air & Cooling USA, Inc.
"Good coverage on battery cooling and safety topics, especially on hardware innovations"
Battery Safety Engineer – Rivian
"The 2022 BTM conference in Palo Alto was a well run and fast paced agenda that presented a diverse blend of new design technologies and supplier solutions. It was well worth the day to gain insight on the various critical battery thermal management topics and ability to network with the industry professionals. We are looking forward to future WeAutomotive Group conferences as attendees and presenters."
Alelion, Amazon, Andreas Stihl, Automotive Cells Company, AVL, Banner Batterien Oesterreich, BMZ, BrightVolt, Caterpillar, Cellforce, China Euro Vehicle Technology, Clarios, CUSTOMCELLS, Daimler, East Penn, ENOVIX, Exide Technologies, EVE, EVONOMY Group, Factorial Energy, Farasis Energy, Ford, Forsee Power, FREYR, General Motors, GS Yuasa, Hankook, Hino Motors, Hitachi, Honda, HOPPECKE Batterien, Hyundai, InoBat Auto, KTM, LG Energy Solutions, Litens Automotive, Log9, Lotus, LytEn, MAGNA STEYR, MAHLE, Mazda, Mercedes-Benz, Natrion, NingDe Amperex Technology, Nissan, Northvolt, Nyobolt, Panasonic, Porsche, QuantumScape, Renata, Renault, Rimac Automobili, Robert Bosch, Rolls Royce, SAFT, Sakuu, Samsung SDI, Scania, Sebang Global Battery, Siemens Mobility, Sion Power, Sionic Energy, SK, Skeleton Technologies, Solid Power, Stellantis, StoreDot, Toshiba, Toyota, Traton, Volkswagen, Volvo, Yanmar, Zeta Energy & more.
Chief Engineer – Battery Electric & Plug-In Hybrid Vehicles, Chief Engineer, Electrified Propulsion System, Chief Engineer, Electrical System, Head, EV Engineering Systems, Head of Vehicle Electrification Technology, Head of Hybrid and EV Battery System, Chief Scientist, Energy and Systems, Head of Vehicle Architecture, Head of Systems and Control Engineering, Electrification Project Engineer, Head of Research, Materials and Manufacturing, Group Product Director Hybrid and Electric Systems, Lead Engineer, Electrical Systems Engineering, Lead Engineer, Electrified Powertrain, Head of Body Structures / Body in White, Battery Electric Vehicle Global Lead Engineer, Global Battery Systems Engineering, Battery Research Engineer, Technical Manager – Innovation Management, Chief Engineer & Technical Leader – Energy Storage & Systems
Battery Thermal Management
Battery Design & Integration
Battery Management & Battery Intelligence
Battery Management Systems
Battery Safety
Battery Cooling Plates
Battery Components
Battery Pack Assembly / Integrator
Adhesives, Sealing & Bonding
BEV Architectures
Material Suppliers
Joining Technologies & Solutions
Battery Pack Design & Material
Battery Assembly
Battery Materials
Powder Coatings
Cabling & Connectors
Cells & system
Battery Applications
Battery Manufacturers
Battery Components
Battery Assembly
Sustainable Lightweight Solutions
Battery Second Life Opportunities
Beyond Li-ion
Solid-State Batteries
Testing Solutions
Pressure Sensitive Adhesives &Tapes
Battery Manufacturing
Renewable Energy Systems
Simulation & Modelling
Recycling Li-ion Batteries
Battery Charging / Fast Charging 
Battery Components
Gap Fillers
Electrification of The Off-Road Vehicle Market
Battery & Fuel Cell Development
Electric Systems Development
Advanced Engineering
Technology Solutions
Advanced Lightweight Structures
Dispensing Systems & Robots
Liquid Systems
Sealing Systems
EVONOMY Data Ecosystem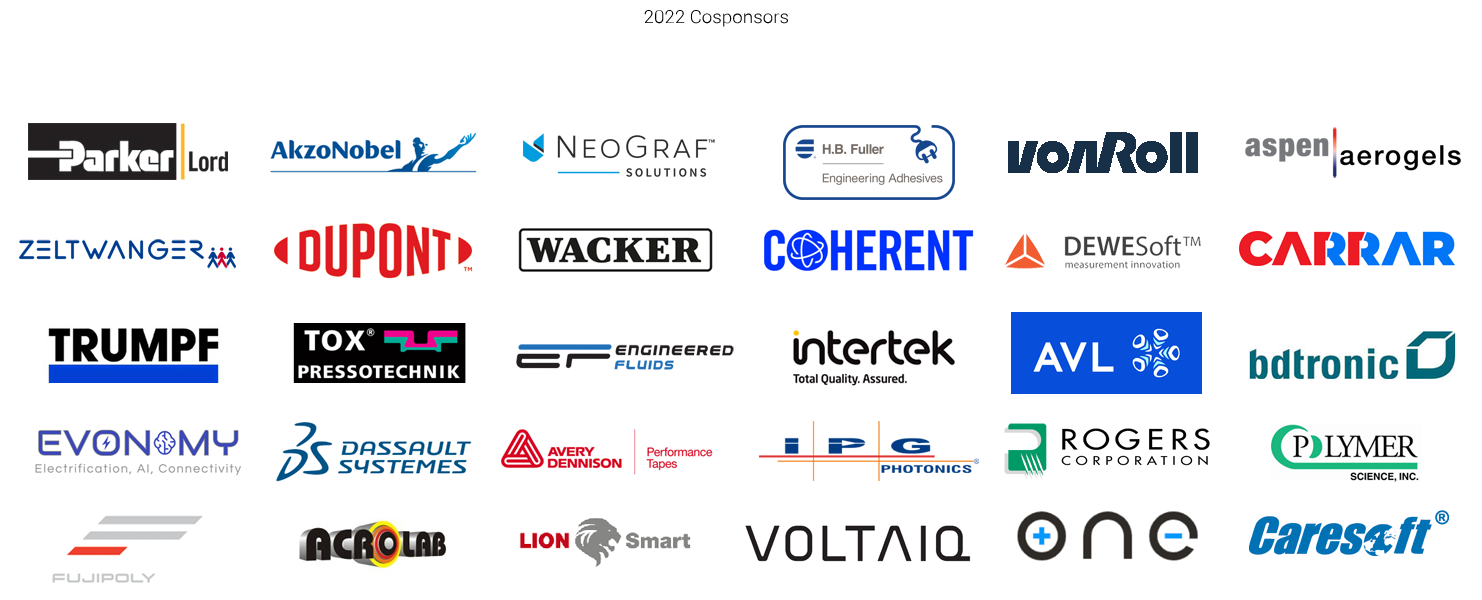 Register your email and we'll keep you informed about our latest content and events. Unsubscribe anytime.
By registering to WeAutomotive Group email alerts you agree to our Terms Of Use & Privacy Policy